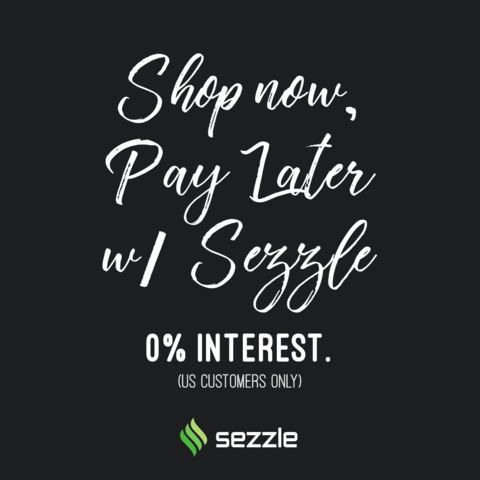 Sezzle
What is Sezzle?
Sezzle is a payment solution that empowers you to "Buy Now and Pay Later" with simple, interest-free installment plans. Sezzle will break down the total cost of your purchase into smaller payments, spread over at least six weeks. As little as 25% is due at the time of the purchase, with the remaining amount spread out over equal installments (typically three), each two weeks apart. 0% interest or processing fees are charged to you - as long as you pay everything off on time, you only pay for what you ordered!
Sezzle automates the remaining payments through whichever payment method you have on file, with text and email reminders before each payment is processed. You can always log into your account and change your payment method, and each order can have payments rescheduled twice, with the first one free! Additionally, if you want to pay off your orders early, you can do so at no extra cost.
How do I use Sezzle?
At checkout, select Sezzle as a payment method. Returning customers will log in, and new customers will need to create an account and provide a payment method. After you're approved and you complete checkout, your order will be shipped just like with any other payment method. 
You will be notified at checkout what sort of payment plan you're approved for, including how much is due upfront and when the next payments will be due.
You must be 18 years or older (19 years or older in Alabama or if you are a ward of the state and live in Nebraska) and have a valid U.S. mobile number and email address (We do secure checkout by sending a one time-password to your phone, so please make sure your phone is nearby!).
Sezzle likes to see at least 25% of the total order cost available at the time the order is placed.
When will my order be shipped if I use Sezzle?
Sezzle orders are treated just like any other order. Your order will be delivered within our standard shipping timeframes, depending on the shipping method chosen for the order.
Shipments are processed Monday-Friday, except for US national and government holidays and except for Pre-Orders. While we strive to have all orders received during business hours processed the same day as much as possible, our standard cutoff for same-day shipping is 11:00am EST. Otherwise, shipments are processed within 1-3 business days.
Can I use Sezzle if I'm an International customer?
Sezzle is currently available only to USA and Canadian-based customers. More to come soon though!
Does Sezzle perform a credit check?
While Sezzle doesn't qualify as a credit product per United States regulations, Sezzle does still look at your credit score as part of their risk check. This does not have an impact on your credit - this is often referred to as a "soft check." Sezzle uses this information to help approve you, verify your identity, and help minimize fraud risk.
Is Sezzle secure?
We believe security is critically important. Sezzle undergoes quarterly scans and yearly audits for the highest level of compliance in the Payment Card Industry (PCI) to ensure that your data is safely stored in their systems. Sezzle is currently certified at the top level of compliance - PCI Level 1.
Why have you taken more than 1 payment out of my account?
Sezzle often runs pre-authorizations for credit and debit cards. These are just temporary holds that tend to fall off your payment method within an hour, though it can take up to 3 business days. These charges usually are listed in your "pending" transactions when you look at your statement. If they do not fall off within 3 business days, we recommend first reaching out to your bank, and then to Sezzle if you have further questions.
How do I return or exchange an item purchased with Sezzle?
Sezzle returns follow our standard return policy. Use our Online Returns portal to print a pre-paid return label to return your item.
Once we have processed your return or agreed to process a refund, Sezzle will be notified. Once Sezzle receives notification, the changes to your installment plan are automatically made by Sezzle.
We are unaware of how many installments are left, or the overall amount of your order outstanding with Sezzle. Because of this, the amount we have refunded may not necessarily be the amount credited back to your payment method.
The credit(s) show up within 10 business days, though usually much sooner. The refund may show up as smaller transactions, or one lump sum, so we recommend looking for refunds from Sezzle, instead of just a dollar amount.
You can always see a breakdown of the refund by logging in to your Sezzle account, selecting "Refunded" and then "Click for More Details." The "Total Refund Issued" section will let you know of the exact amount returned to your original payment method.
If you haven't received your refund after 10 business days, please contact Sezzle here.
What if I can't pay a Sezzle installment?
If you are unable to make a payment Sezzle allows you to reschedule. Each order comes with one free reschedule, and then the ability to reschedule one more time for a $5 fee. Sezzle recommends rescheduling as soon as you know you need to (at least 48 hours in advance), because once a payment has started processing it cannot be changed.
To reschedule a payment, log in to your account, click "Manage Order" next to the order, and then click "Reschedule" next to the upcoming payment. Then select a date that works best for you!
Sezzle also sends you reminders via text and email to make sure that you don't forget!
If you know you cannot make a payment, and are running into problems rescheduling, please contact Sezzle here.
What happens if a payment fails?
If a payment fails for any reason (insufficient funds, a closed payment method), you will receive a notification and a $10 fee will be assessed.
If you pay the failed payment off within 48 hours of the moment it failed, the $10 fee will be waived. Please note, this is tied to the specific moment it failed, not necessarily 2 days or 2 business days.
To pay off a payment that failed, log in to your account, select the payment that failed, and then click "Pay Now."
If the failed payment is not paid off within 48 hours of the moment it failed, the $10 fee will not be waived, your payment date will be rescheduled, and it may negatively impact your ability to place orders with Sezzle in the future.
Why was my purchase with Sezzle not approved?
While we strive to offer all applications a payment plan through Sezzle, Sezzle is not able to approve every order. Here are some things to consider if your order was not approved:
Do you have sufficient funds available? Typically, Sezzle checks to make sure you have at least 25% of the total order cost available at the time the order is placed.

Length of time using Sezzle. Usually, Sezzle are less restrictive after the first six weeks.

The overall amount outstanding on previous orders and number of orders still open. If there are multiple orders with outstanding payments, and/or a majority is still outstanding on a previous order, paying those off can help increase your likelihood of approval.

Overall value of your new order. Reducing the order amount can help!

Payment methods linked to your account. Adding another debit card or a credit card can help Sezzle better understand your repayment ability, which can help get orders approved!




If you are not approved, you will be notified instantly - and then you can checkout as normal. Merchline accepts all forms of major debit/credit cards, along with PayPal, Amazon Payments, Apple Pay and BitCoin as payment options.
 If you have any additional questions, please browse Sezzle's FAQ's here: https://sezzle.com/faq/shopper